What a year.
2017 was a garbage fire in so many ways, so it's fortunate that musically this past year gave us so many solid opportunities to reduce the world to the space between our headphones. To some artists, the year felt political; their records were infused with righteous anger and renewed determination. Donald Trump's name must have appeared in more songs this year than ever before—but don't tell him that. For others, it was a year for cutting loose, for creating music to lose yourself in—sorry, Eminem, but your bland, overcooked Revival didn't make the cut.
I found myself wishing I could include more titles in the list below. I thought about extending it to a top 100 list, but a guy's gotta have standards, right? I listened to well over 300 eligible* albums this year. Here were my favourite.
*full length, new or unreleased recordings, no live records, compilations or soundtracks
My Top 50 Albums of 2017

50 – 41
50. The War on Drugs – A Deeper Understanding
49. Godspeed You! Black Emperor – Luciferian Towers
48. Björk – Utopia
47. Tyler, the Creator – Flower Boy
46. Chelsea Wolfe – Hiss Spun
45. Majid Jordan – The Space Between
44. Laura Marling – Semper Femina
43. Metz – Strange Peace
42. Jenn Grant – Paradise
41. Gorillaz – Humanz
40 – 31
40. Spoon – Hot Thoughts
39. Mastodon – Emperor of Sand
38. Dvsn – Morning After
37. Jean-Michel Blais & CFCF – Cascades
36. The Weather Station – The Weather Station
35. Daniel Caesar – Freudian
34. GoldLink – At What Cost
33. Sabrina Claudio – About Time
32. Circa Survive – The Amulet
31. Future Islands – The Far Field
30 – 21



30. Kacy Hill – Like a Woman
29. Grizzly Bear – Painted Ruins
28. Less Art – Strangled Light
27. Mac Demarco – This Old Dog
26. Lana Del Rey – Lust for Life
25. Foxygen – Hang
24. Jens Lekman – Life Will See You Now
23. Tennis – Yours Conditionally
22. Bonobo – Migration
21. Japandroids – Near to the Wild Heart of Life
20 – 11



20. Manchester Orchestra – A Black Mile to the Surface
19. Lorde – Melodrama
18. Drake – More Life
17. Paramore – After Laughter
16. Tove Lo – BLUE LIPS (Lady Wood Phase 2)
15. St. Vincent – MASSEDUCTION
14. Sampha – Process
13. The Wooden Sky – Swimming in Strange Waters
12. Converge – The Dusk in Us
11. Joey Bada$$ – ALL-AMERIKKAN BADA$$
The Top Ten
10. Feist – Pleasure



"We know enough to admit / It's my pleasure / And your pleasure"
Hazy, unadorned guitar marks the opening strains of Feist's Pleasure, her first record in six years. It's an astounding work and by far her most challenging, without a "1234" or "Mushaboom" in sight. This is Feist at her most intimate and stripped down, often only her voice backed by a single guitar. The minimalism works well to mirror an album that thematically explores isolation and loneliness. Feist punctuates her arrangements with sudden, often unexpected bursts of distortion, drums, and other musical surprises, not the least of which is the Mastodon sample that closes "A Man Is Not His Song."
In the wake of 2011's great Metals, Pleasure marks Feist as consistently and fully being in her element. If it takes another six years between records, we can only hope the next one is this good.
9. Vince Staples – Big Fish Theory

"Ain't no gentrifying us, we finna buy the whole town / Tell the one percent to suck a dick, because we on now"
Heavily relying on elements from Detroit techno and house music, Big Fish Theory layers Staples' smooth flow over pulsing drum & bass in a way that resembles a less aggro and less effortful version of Kanye's Yeezus, without sacrificing any of the dark forcefulness. When he suggests listeners should "just drown in the sound" it's a double-edged sword—music as escapism but never without being a suffocating reminder of uncertain times. Staples captures the fishbowl-like experience of what it's like to feel trapped on one side by the reality of being Black in America and on the other side by the excesses of hip hop hegemony, unable to grow beyond the limits imposed by this tank but unwilling to stop bringing attention to it.
Big Fish Theory is a deliriously dense record for its tight 36-minute run time, and one of the most exciting rap albums of the year.
8. SZA – Ctrl
"I could be your supermodel if you believe / If you see it in me / I don't see myself"
2017's most confessional album, SZA's Ctrl is a frank unpacking of the complexities of love and desire in the modern age. As tender as it is fierce, Ctrl pulses with sleepy bass and warms with SZA's unassumingly powerful voice. The gatekeepers of sexual propriety have traditionally shut out women from telling their stories of desire, power, and insecurity. But SZA joins artists like Tove Lo and Nicki Minaj in driving through the gate while giving no fucks, cornering the territory previously occupied by dudes like The Weeknd and Drake—on "Normal Girl", which appropriates Drake's "Controlla," SZA is both rejecting and envying the cool girl archetype. Throughout, she is freely expressing a full spectrum of complex emotions, including self-doubt and weakness as well as the desire to be in control and the fear of losing it. Musically, it's a beautiful package, but there's a lot more here than initially meets the ear.
7. Allan Rayman – Roadhouse 01


"Say I'm not what you wanted / No, what you wanna do / And I love what we started, oh / What I could put you through"
Here are my thoughts over the 3:52 of Roadhouse 01's opening track, "Wolf": (1) The gentle intro sounds a lot like Thrice's "The Lion and the Wolf;" (2) What an incredible and incredibly distinct voice Allan Rayman has; (3) Oh, this is a nice beat that came out of nowhere; (4) The lyrics are delightfully cryptic ("This is brotherhood, 512 / We all lost a brother, we won't lose two"); (5) The violin in this bridge section reminds me of the score to The Leftovers; (6) Wow, that was a great song!
And that's only the album's first four minutes. It stays bewildering, though. From there it swerves into the sultry pop sheen of "December," a track that shoots for (and deserves) radio play. Rayman's aesthetic involves laying something resembling rock and soul vocals over sleepy hip hop beats, creating a wholly unique sound anchored by that singular voice. He drops cryptic references without context, shifts between soothing soul and ominous noise, and croons conflicted about the destructive and alluring nature of love.
It's Rayman's voice and songwriting that compel, but it's what he surrounds them with that really surprise and captivate you. Like the way the sparse "Hollywood/My Way" is suddenly and briefly assaulted by electric guitar, and later breaks down into trap/hip hop. It's all very cinematic. He blends pop and rock in the tradition of Prince and Michael Jackson, and it's exciting as hell.
6. Brutus – Burst



"You do anything but lie / I do anything for you / We could make it if we try / I'll do anything for you"
Burst is an apt title for the debut album from this Belgian rock band that hits you out the gate with a sound that's somewhere between punk, metal, and rock and all of the above. The first thing you notice about Brutus' sound is the way the relentless energy of it feels urgent. It's not polished, and is all the better for it, like how vocalist/drummer Stefanie Mannaert wails and cracks in reach of notes just out of her grasp, or how the trio's genre sandbox play finds them making surprising shifts from moment to moment as though they're still searching for the final version of these songs, and doing it by feeling. It's as exhilarating as it is confounding, and an absolute must-listen.
5. Father John Misty – Pure Comedy


"And how's this for irony: / Their idea of being free / is a prison of beliefs / that they never ever have to leave"
You know that old saying, "we laugh to keep from crying?" Father John Misty's Pure Comedy is that idea writ into a feature-length apocalyptic odyssey. The opening title track is a six-and-a-half minute trip through human history from the absurdity of evolution to the greater absurdity of religion, culminating across a vast sonic spectrum of piano and horns in a plea for community. Even at his most cynical—on the next song he calls us "a race of demented monkeys"—Father John Misty can't help but begrudgingly bless this mess.
Over thirteen tracks Josh Tillman invites and laments our hastening demise, from self-pacification through entertainment—a theme that works way better here than on Arcade Fire's "Infinite Content"—to our maddening addiction to the 24-hour news cycle. He's a hysterical jeremiad for sure, but a self-flagellating one. The choir-backed finale of "The Ballad of a Dying Man" injects a sly grandiosity to a song about self-importance; we are a race of people who cluelessly hold our own opinions as sacred. And Tillman is one of us. Irony is dead, but that won't stop Tillman from indulging in it, and hating himself for doing so. ("Oh, great, that's just what they all need / Another white guy in 2017 / Who takes himself so goddamn seriously")
The way he calls the blue planet a "godless rock that refuses to die" almost sounds impressed, as does the existential realisation in the album's closing moments that "It's a miracle to be alive"—that's as earnest as it gets, but it's significant in the way it lends Pure Comedy something of a twist ending. We are nothing if not persistent. Shitty, but persistent. And that's something to admire.
4. Jidenna – The Chief
"N*ggas fighting over rings / N*ggas wanna be the King, but / Long Live the Chief"
Jidenna burst onto the scene in 2015 with the single "Classic Man," but his proper full-length debut with this year's commanding The Chief establishes him as one of rap's most exciting new voices. The record is an accomplished debut, full and exploratory in its sound and ambition. Like his mentor and label-head Janelle Monae, he isn't easily pigeonholed.
Jidenna raps about a range of topics such as growing up poor, visiting his ancestral homeland of Nigeria, lineage and legacy, romantic affection, and racial politics—all with swaggering confidence. The infectious sex-positive empowerment anthem "Trampoline" finds him extolling women who "just be knowing what she wanting." Its sonic spectrum is all over the place, but it feels oddly consistent. Distorted bass and horns are commonplace on the album alongside more experimental forays into Afrobeat ("Bambi"), neo-R&B ("Safari"), dancehall ("Little Bit More") and the Latin crooning of "Adaora." The standout track, "White N*ggas" finds Jidenna rapping a racial thought experiment over a simple drum & bass line and a backing vocal section that sounds like My Morning Jacket.
With Jidenna's undeniable skill and the swooning production, The Chief is easy to get lost in.
3. Kendrick Lamar – DAMN.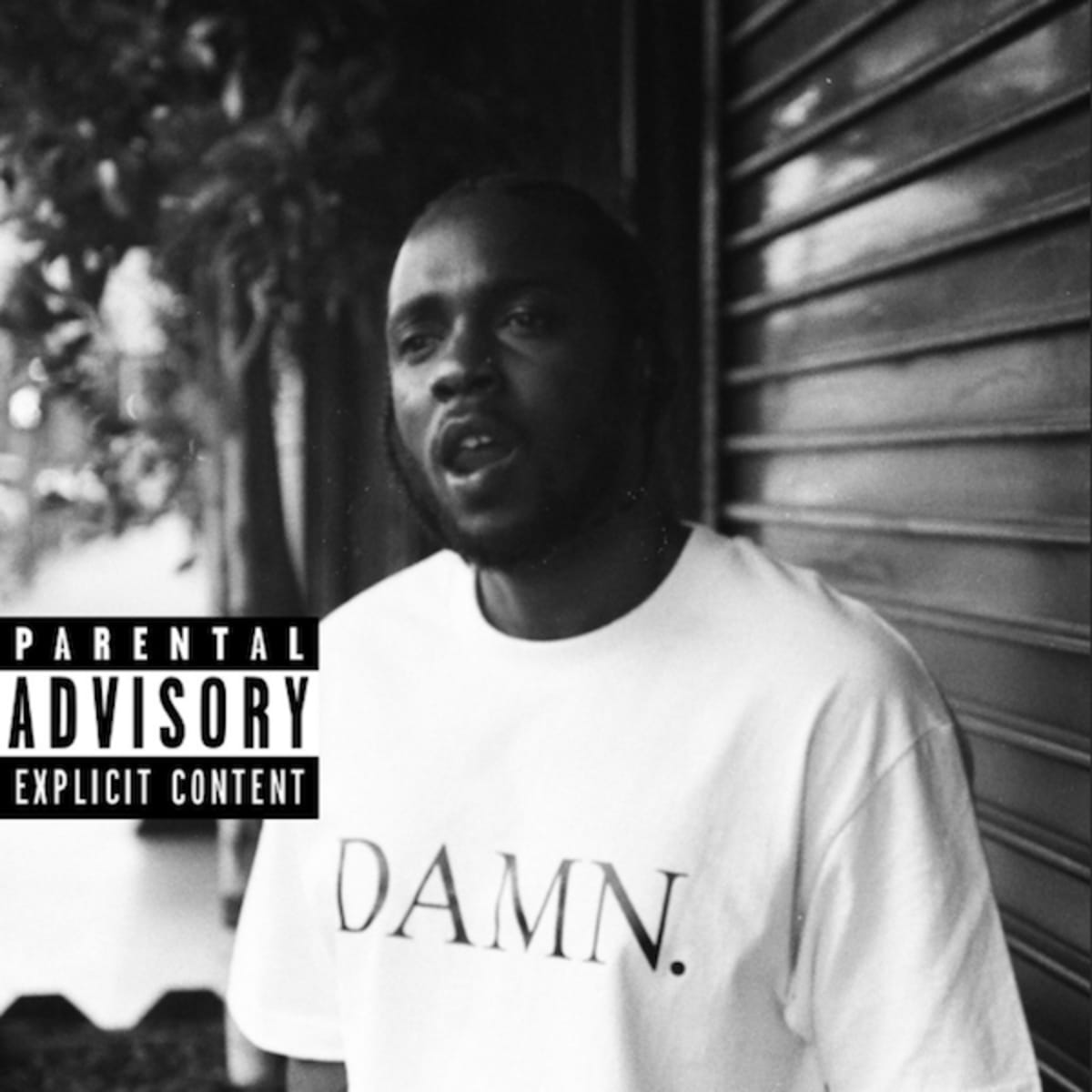 "Because it's in your eyes, most of y'all tell lies / Most of y'all don't fade, most of y'all been advised / Last LP I tried to lift the black artists / But it's a difference between black artists and wack artists"
Kendrick's follow up to my number one album of 2015, To Pimp a Butterfly, originally sat much lower on this list. DAMN.'s comparative smallness and seemingly smaller ambition wasn't immediately wowing me like its dense and aggressive masterpiece of a predecessor. But DAMN. was infectious, perhaps the record that got the most replay throughout the year, as it slowly inched its way further towards the top of the list.
DAMN. has an almost schizophrenic aesthetic, dancing between breathless rap flows—try not to be wowed by "DNA."—and washed-out, bass-infected grooves. The record couldn't be more different from the jazz/funk-tinged cacophonous epic of To Pimp a Butterfly. These lean 14 tracks represent hip hop at its most pure, and at its best. It's tight, spare, and crowd-pleasing. That it works so well as a musical palindrome—Kendrick released a "Deluxe Edition" with the track listing reversed—only proves the versatility of these fourteen songs.
2. Buffy Sainte-Marie – Medicine Songs
"Whether you're woman or whether you're man / sometimes you got to take a stand / Just because you think you can / Oh, you got to run, you got to run"
It might seem unfair to put a record that is mostly a compilation of older tracks this high on a best of the year list, but this is more than a simple greatest hits album. Medicine Songs is a collection of new recordings of songs from Buffy Sainte-Marie's half-century career, updated with new lyrics and energetic, often bombastic new arrangements. Specifically, the folk legend has gathered twenty of her best and most vital pieces of musical activism, songs like "The War Racket," "Universal Soldier," and "Starwalker."
The brilliance of the record isn't just in the song selection and how relevant these songs feel in 2017, but in the re-recordings themselves, which lend a vital contemporary energy, even joy, to songs intended to sustain and celebrate Indigenous resistance in the 21st century. The songs feel renewed, rebuilt to ring with the tenor of a new generation's passion. Sainte-Marie shouts out Standing Rock on the opening duet with Tanya Tagaq, and updates the lyrics of "My Country 'Tis of They People You're Dying" to reflect the epidemic of missing and murdered Indigenous women.
In many cases, this kind of revisiting of old songs can feel like a sign of an artist who has run out of ideas. In Buffy Sainte-Marie's case, it's not a sign of being stuck, or even of slowing down. Is there any other 76-year-old who sounds this full of life? Medicine Songs is not just welcome, it's necessary. It's not just songs of protest, it's songs to uplift like "Carry It On" and "You Got to Run (Spirit of the Wind)." Because for Indigenous people in opposition to colonialism, continued existence is an act of resistance. After all, what is medicine if not that intended to return us to wholeness?
1. Haim – Something to Tell You


"And I say goodbye to love again / In loneliness, my only friend / In loneliness, my only fear / The night's here"
The sophomore record from sister trio Haim seems to have gotten less credit than it deserves this year, scoring a mere 69 critics score on Metacritic and failing to generate the buzz of their debut, Days are Gone. In 2013 it must have been a novelty, these three women so unabashedly taking up the rock/pop mantle of artists like Wilson Phillips and Stevie Nicks. In 2017, perhaps Haim's follow-up is being dubbed more of the same, a label that fails to account for near-perfect consistency as an act of accomplishment in itself. Maybe Haim's music sounds familiar because it's tapping into a kind of pop that's timeless. The kind that wouldn't sound out of place among the vulnerable crooning and folksy guitars of the 70s, the swaying synths and bass of the 80s, or the melodic swooning of contemporary R&B acts like The Weeknd.
It opens with "Want You Back," song that layers interlocking vocal melodies with handclap percussion and bass slaps, a Russian nesting doll of a song so effortless and catchy it takes a while to even notice the slight Lindsey Buckingham-esque guitar riff that seems to wander in from "Never Going Back Again" midway through. It closes with "Night So Long," a ballad that slows down the bass riff from Lou Reed's "Walk on the Wild Side" to a funeral dirge, and then lays over it a cavernous, mournful Neko Case-like vocal track. It's a sad, downtempo track, and a surprising one to end an album with. But the two are great examples of how Haim's music encompasses the spectrum of relational emotions, musically and lyrically. The trio know when to fill the space to capacity, and when to let it breathe.
It's the kind of music that, if you let it, can seep into your memories and soundtrack those moments in your life both joyous and painful—and those are the moments Haim seems best at capturing lyrically, relationships in an ambivalent state of collapse. The production by Ariel Rechtshaid feels purposeful yet unobtrusive. Like a conducted orchestra, each piece is perfectly calibrated to produce a glorious, organic whole. It's not innovative, but it is precise. It's way too purposeful to be mere pastiche or homage. My colleague said of Haim that "I feel like I've known this song my entire life." I don't know whether he meant that derisively or in praise, but it does perfectly encapsulate why I love this record. It's a reminder of why you fall in love with music in the first place, for the way it bursts with emotion, layers of sound that continue to reward you over time.