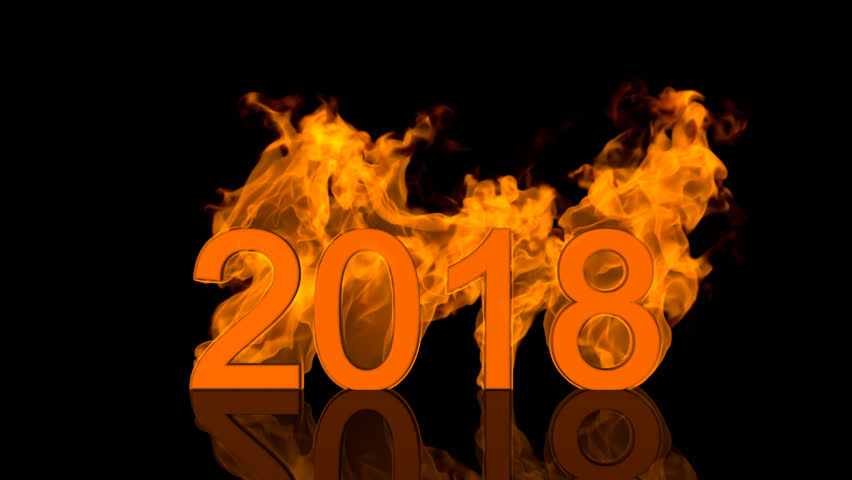 Another year has come and gone. We're mostly happy that it's gone. But a lot of great music came out this year!
Josh has already published his annual best-of albums list and I believe it to be far more of a definitive and measured assessment of the year's music than my own. His list spans all genres and demonstrates a (kind of freakishly complete) grasp of what happened in the 2018 musical landscape. It is on a level that I'm simply not equipped to compete with.
That being said, I did listen to music this year and I did like a bunch of it. So here are some of my thoughts about the musical year that was, most of which are just highlights from the handful of musical genres that I have a tendency to follow closely. Could this list be more diverse? Most definitely. But I am tired and most days I just want to listen to some unwashed dudes beating the shit out of some guitars.
Enjoy!
Honourable Mentions
A lot of records come out in a year and I only hear a handful of them, but I hear a lot more than just ten! Here are some things that came out this year that I enjoyed and that I think deserve a listen, but that I didn't listen to quite as fervently as my proper top 10.
Colter Wall – Songs of the Plains
This is an almost too perfectly traditional new C&W album. In a time when Country music is often the pits, it's nice to hear something that echoes the sounds of the genre's roots. Also, how perfect is it that this album plumbs the landscape of central Canada for its inspiration? It's the land that time forgot!
Boyhood – Bad Mantras
Finally released this year following a long gestation period, Bad Mantras doesn't disappoint. More great work from a songwriter that deserves more attention, featuring stronger production work and a more refined sound. Recommended.
Anderson .Paak – Oxnard
I really enjoyed Anderson .Paak's last record, and Oxnard is perhaps even better. It was released pretty late in the year and I've only given it a few spins, but I love the sound of the tunes and production. Cool stuff. Although, I gotta admit… If you go ahead and give the car blowjob song (complete with skit) the number two spot on your record, you're making a really strange choice. Not great.
Boygenius – Boygenius EP
This is a strong collaboration project from three pretty great singer songwriters. Were it not an EP and were it released a little earlier in the year, it could have edged into my top 10. We'll talk a little more about Lucy Dacus later, but this six-song set that she's created with Julien Baker and Pheobe Bridgers is very solid. Here's a live video. From Carson Daly's show. Carson Daly is alive?
Better Late Than Nevers
It's impossible to listen to everything in a year, even just from the niche corners of the music world that I tend to creep around in. Invariably, I will wind up coming to some albums that I had missed because they wind up on other year-end best-of lists. Here are a few that I've been listening to recently that I had snoozed on during their proper releases.
Daughters – You Won't Get What You Want
I will admit to completely ignoring what was apparently some kind of huge comeback for this band who I will admit to completely ignoring during their initial period of relevance. Upon noticing the near-universal acclaim that this album had garnered, though, I gave it a spin. Holy smokes. This is a deep, weird, dark pit of an album. You Won't Get What You Want is front-to-back unsettling in a way that really stands out and that I find very exciting. Had I heard this earlier in the year, it probably would have made my top 10!
Candy – Good To Feel
This album is pretty bonkers and its audacity made me chuckle a bunch of times on first listen. Also my second and third listens. I don't even know what you call a record that seems to be a hardcore powerviolence act who also think that they're a thrash band who also decide to end their record with a shoegaze-y indie pop song. But lemme tell you, I am HERE FOR IT. This video is pretty stupid, though.

Most Disappointing
There were a number of albums that I had been looking forward to when the year kicked off. Some of them met (or exceeded) my expectations. Others fell kind of flat for me. Here are a few albums that wound up disappointing me this year.
Courtney Barnett – Tell Me How You Really Feel
I'm a big fan of Courtney Barnett's prior releases, and I loved the first two preview tracks off of this album. So I was very excited for the proper release. I was disappointed to find very little on the album that I liked more than the lead-off singles. It's all still fairly good and very listenable, but there's something about this album that feels bummed-out and dour where her earlier records had sort of delivered songs about bummer topics with a bit of a clever wink and a skip in their step. Still very good, but not really what I wanted.
Pig Destroyer – Head Cage
I took a deep dive into Pig Destroyer in 2012 after their last album, Book Burner, was released. They've become one of my go-to bands for a shot of super fun, intensely heavy music. So I was pretty disappointed by this set of songs. I think I've only listened to the thing once. I might return to it, because I might be wrong. Am I wrong? Does one work at letting a Pig Destroyer record "grow on" them? Who knows.
Top 10
Here are my top ten albums of 2018! The order isn't super important, but I'll number them anyway.
10 – Shame – Songs of Praise
I think that these young British creeps have a great vibe. I listened to this album quite a bit this year! "Dust on Trial" is a terrific, lurching opener.
9 – Anna Meredith – Eighth Grade soundtrack
Although this collection contains selections from Anna Meredith's 2016 album, those tracks are complimented by even more wonderful compositions and sounds. This is really good music to work to and really good walkin' around music. I listened to it more than I would have thought.
8 – Jon Hopkins – Singularity
I feel as though I used to make a lot of fun of people for liking this kind of thing. But here we are. Me in my middle 30s. Liking an instrumental electronic music album. Walking around listening to it on public transit thinking "maybe we are the machines". I hate myself. This album is pretty good.
7 – Soccer Mommy – Clean
I listened the hell out of Clean this year. Although the record starts to drop off a bit in its back half, there are a pile of great tunes to be found here. Sophie Allison has a knack for sharp hooks and vulnerably biting lyricism. Although I have to admit that I felt like a real old oldster listening to these songs about young people problems. So much potential here. Great stuff.
6 – Lucy Dacus – Historian
I enjoyed the clever songwriting and wry lyricism of Dacus' last album, but I wasn't really prepared for just how good Historian would be. The expanded arrangements and thoughtful compositions go a long way in allowing Dacus' lyrical talents to shine. Few artists hit the right balance when writing tunes that feel both melancholy and witty, but this artist excels. A very solid, smartly arranged album. It filled up a good segment of my listening in early 2018.
5 – Gouge Away – Burnt Sugar
Another album to file under the "fulfilment of potential" category, Gouge Away's sophomore effort really took me by surprise. Their previous album, while a great hardcore album, was relatively straightforward. Burnt Sugar is another beast altogether, containing nods to post-rock, grunge and noise rock, all while maintaining the band's sharp rage. Great musical moments abound. One of my favourites of the year.
4 – Hot Snakes – Jericho Sirens
Seems like a lot of attention was given to the triumphant return of Daughters this year and a little less was paid to the triumphant return of the fucking Hot Snakes. This record smokes. So much fun to listen to. It's pretty rare these days that I hear a record and I want to sit down and learn how to play all of the songs because all of the guitar parts sound like so much fun. But all of these guitar parts sound so fun to play. I love this record.
3 – Idles – Joy as an Act of Resistance
In a year that seemed full of fun punk records, this was the punk record that seemed the most fun to me. Joy is a sing-along, shout-along, laugh-out-loud riot of an album. Containing some of my favourite lyrics of the year, Idles tackle an array of hot button issues ranging from Brexit to toxic masculinity, and they do so with a gleefully irreverent swagger. Top marks!
2 – The Armed – Only Love
We've already gone on at length about Only Love, and its inclusion on my list should come as no surprise. I love The Armed. With Only Love, they have outdone themselves. Sprawling, spastic, strangely uplifting, this is the feel-good record that makes good people with normal ears feel bad. I think my favourite musical moment of the entire year came upon hearing the back half of "Witness", marvelling at how such a godawful racket could be so… pretty? It's an endlessly beguiling collection of tunes and it is almost certainly my album of the year.
https://www.instagram.com/p/BoDchaJHUnE/
My other favourite musical moment of the year was going to see The Armed play live in a scary basement. Thanks to Aaron for this video. Lolz look at that little kid go flying. It's the best.
1 – Mass – Everyone
The real best album of this year was the album that my band put out.
Because it is our best album and you're all shitheads for not listening to it.
What the hell is wrong with all of you?